HARRISBURG – Senator Bob Mensch (R-24) joined Governor Tom Wolf during ceremonial signing of SB 609. SB 609, now Act 66 of 2015, was sponsored by Senator Mensch and is designed to create greater public awareness of measures available to detect, diagnose and treat prostate cancer and related chronic prostate conditions.
Act 66 of 2016, the Prostate Cancer Surveillance, Education, Detection and Treatment Act, will improve public awareness of the prevalence of prostate cancer and measures available to detect, diagnose and treat it and related chronic prostate conditions. It is also intended to ensure that:
Medical professionals, insurers, patients and governmental agencies are equally knowledgeable about screening, diagnosis and treatment options;
Medical professionals provide patients have sufficient information about treatment options to enable patients to make an informed choice as part of informed consent and to respect the autonomy of choice; and
Pennsylvania government agencies provide unbiased information regarding multiple standards of care.
The legislation directs the Department of Health to establish a 19-member task force on prostate cancer and related chronic prostate conditions to investigate and make recommendations.
"The purpose of this legislation is to investigate, raise awareness and make recommendations concerning prostate cancer and prostate cancer related conditions," said Mensch.  "The findings of this task force will be invaluable to the health of all men and can be a model for other states. We need to look at the recommendations from the task force and introduce legislation that will further help those suffering with this terrible disease."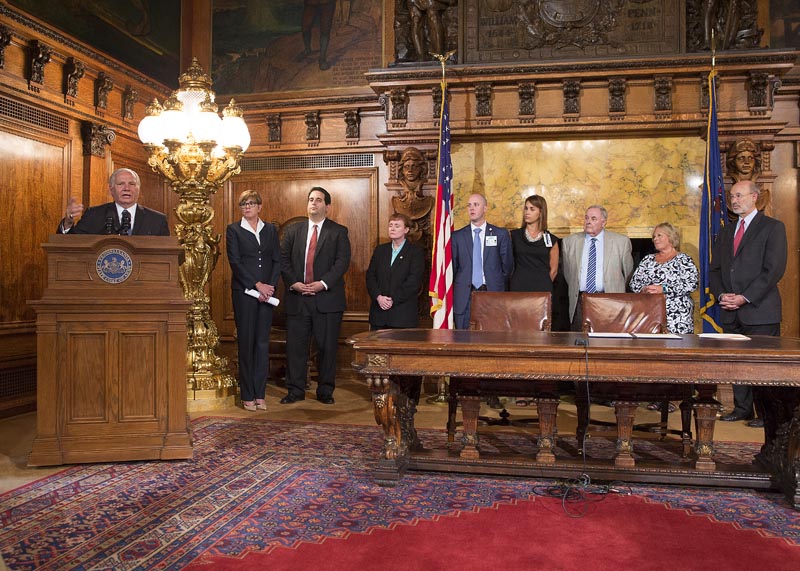 Prostate cancer in Pennsylvania has similar incidence and mortality numbers as breast cancer. In the past year, over 10,240 men were diagnosed with prostate cancer. That's 28 men per day in our Commonwealth. An additional four men will die from prostate cancer every day, adding up to almost 1,300 men per year.
Gov. Wolf himself is being treated for prostate cancer. It was detected early and the prognosis is good. Arming men with information will greatly improve their chances of detection and survival.
For more information on Senator Mensch's legislation, visit www.senatormensch.com.  State updates can also be found on Senator Mensch's Facebook at www.facebook.com/senatormensch, or Twitter @SenatorMensch. 
CONTACT: Sarah Rasmussen srasmussen@pasen.gov  (215) 541-2388