In This Update:
Op-Ed: Voters Choice on the Constitutional Amendment
Budget Hearings Continue with Discussion on Education
COVID-19 Restrictions Relaxed on Businesses, Gatherings
Mensch Report – Discussion with Senator John Yudichak
Senator Mensch Conducts ReOpen PA Survey
Montco Recovery Tuition Assistance Program
Updated CMS Guidance RE: Visitation
Senate Approves Bill to Open Career Opportunities for Individuals in Recovery
Senate Continues Bipartisan Review of Election Issues Next Week
Unemployment Compensation Programs Extended
World Down Syndrome Day is March 21
---
Op-Ed: Voters Choice on the Constitutional Amendment

During the past year, the COVID-19 pandemic has created extraordinary hardships and challenges that have required all branches and levels of government to work together to help those affected by this crisis.
Here in the Commonwealth, we have faced another challenge – a governor who maintained nearly absolute power to make unilateral, and often arbitrary decisions, regardless of the opinion of lawmakers or the general public, and without any sense of transparency.
As a result, an extraordinary number of employers have faced shutdowns and restrictions that go far beyond the recommendations of national health experts, and workers have been thrown into an unemployment system that is unable to handle the huge volume of claims. Clearly, the governor overstepped his bounds, and yet, there was no recourse for those impacted.
That's why I joined legislators in approving a proposed amendment to the Pennsylvania Constitution that would provide a stronger system of checks and balances in how our state government responds to emergencies. The bipartisan measure would give voters the final say on whether the governor should be permitted to keep an emergency declaration in place for an indefinite period of time, or whether lawmakers should have the power to limit future emergency declarations if the governor abuses his power or deeply infringes on the rights of citizens.
Read more in my latest op-ed.
Budget Hearings Continue with Discussion on Education
The Senate Appropriations Committee's series of hearings on Governor Wolf's budget proposal continued this week with a discussion regarding the future of education in Pennsylvania with the Department of Education and representatives from the Pennsylvania State System of Higher Education. During the hearing with the Department of Education, I asked about the immunizations of teachers and the "hold harmless" provision for education funding.
Some of the topics of discussion included the importance of returning students to in-person instruction safely, the need for schools to use federal stimulus funding prudently, and redesigning PASSHE to provide a quality education to students at an affordable price. Key Points
Budget hearings will continue Monday, March 21, with the Department of Corrections and Board of Probation and Parole at 10 a.m. and the Department of Community and Economic Development at 2 p.m. The hearings will be streamed live at www.PASenateGOP.com.
COVID-19 Restrictions Relaxed on Businesses, Gatherings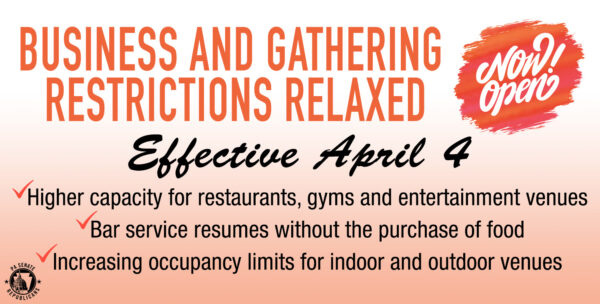 After weeks of dedicated advocacy from lawmakers, employers and employees, Governor Wolf finally announced that several restrictions on businesses and gatherings would be relaxed effective April 4. Some of the changes include:
Increasing indoor dining capacity to 75 percent for restaurants that self-certify compliance with cleaning and mitigation requirements;
Allowing bar service and alcohol service without the purchase of food;
Removing the curfew on serving alcoholic drinks; and
Increasing occupancy for gyms, entertainment facilities and personal services facilities.
In addition, occupancy limits will be increased to 25 percent for indoor venues and 50 percent for outdoor venues, regardless of size.
Although this is positive news for industries impacted by Governor Wolf's unilateral orders and restrictions, the fact that these restrictions are still in place today speaks to the dangers of allowing one branch of government to control all the power during an extended emergency declaration. Lawmakers approved potential amendments to the Pennsylvania Constitution that would give the people a stronger voice in emergency response through their elected officials. An explanation of the amendments – and how Governor Wolf is working to sabotage them – is available in this editorial.
Mensch Report – Discussion with Senator John Yudichak
On this edition of the Mensch Report, I sat down with Senator John Yudichak to discuss his role as chair of the Senate Community, Economic, and Recreation Development Committee, which I am also a member of.
The Department of Community & Economic Development budget hearing will be held on Monday, March 22 at 2:00pm.
Senator Mensch Conducts ReOpen PA Survey
I recently conducted a survey, which was posted on my website and promoted on social media, asking a few questions regarding the COVID-19 reopening process and public health emergency.
Those who completed the survey were asked three questions. Below are the results.
Survey Question 1: Do you believe counties should be authorized to issue business closure orders during a health emergency?
County Level: 66%
State Level: 34%
Survey Question 2: Do you believe parents/ students should have the option of in-person instruction?
Yes – In-person/ Hybrid: 87%
No – All virtual: 13%
Survey Question 3: Do you believe that the General Assembly should have the authority to limit the length of future emergency disaster declarations or the Governor?
NOTE: Currently, a Governor's emergency declaration can last up to 90 days and be renewed by the Governor indefinitely.
General Assembly: 72%
Governor: 28%
Montco Recovery Tuition Assistance Program
Montgomery County residents who have become unemployed due to COVID-19 may be eligible to receive additional tuition waivers after all applicable grants, scholarships and/or workforce training funds are applied. To learn more, click here.
Updated CMS Guidance RE: Visitation
The Centers for Medicare and Medicaid Services (CMS) issued revised guidance on visitation in nursing homes.
The revised visitation guidance, which is effective immediately, reflects the positive impact that COVID-19 vaccinations are having on residents and staff in nursing homes. The updated guidelines provide that skilled nursing facilities should allow responsible indoor visitation at all times and for all residents, regardless of vaccination status of the resident, or visitor, unless certain scenarios arise that would limit visitation for:
Unvaccinated residents, if the COVID-19 county positivity rate is greater than 10 percent and less than 70 percent of residents in the facility are fully vaccinated;
Residents with confirmed COVID-19 infection, whether vaccinated or unvaccinated, until they have met the criteria to discontinue transmission-based precautions; or
Residents in quarantine, whether vaccinated or unvaccinated, until they have met criteria for release from quarantine.
The document also speaks to outdoor visits, indoor visitations during an outbreak, visitor testing and vaccination, compassionate care visits, and access to the Long-Term Care Ombudsman, among other items.
Also included in the guidance:
While visitor testing and vaccination can help prevent the spread of COVID-19, visitors should not be required to be tested or vaccinated (or show proof of such) as a condition of visitation.
Compassionate care visits, and visits required under federal disability rights law, should be allowed at all times, regardless of a resident's vaccination status, the county's COVID-19 positivity rate, or an outbreak.
A nursing home must facilitate in-person visitation (unless adequate reason related to clinical necessity or resident safety) consistent with the applicable CMS regulations, which can be done by applying the guidance stated above.
You can view the updated Nursing Home Visitation guidelines here: https://www.cms.gov/files/document/qso-20-39-nh-revised.pdf. My Designated Essential Family Caregivers (EFCs) in Long-Term Care Facilities legislation (Senate Bill 190) is currently in the Aging and Youth Committee, which passed it unanimously last session. I will continue to provide updates as they occur on this important piece of legislation.
Senate Approves Bill to Open Career Opportunities for Individuals in Recovery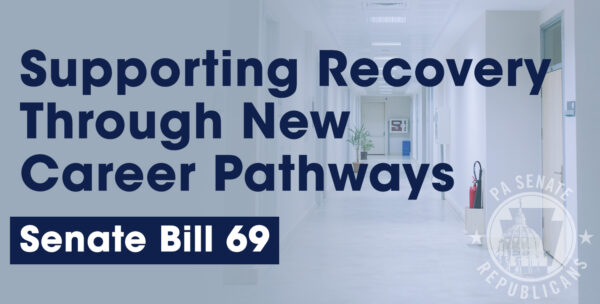 Individuals in recovery for substance use disorders could stand a better chance of breaking the cycle of addiction by maintaining meaningful employment under a bill approved by the Senate on Wednesday. The bill would create a Recovery to Work pilot program to connect individuals suffering from substance use disorders with high-priority occupations.
The pilot program would allow state agencies to work with local workforce development boards, treatment and recovery providers and employers to find job training and employment opportunities for individuals in recovery.
Senate Continues Bipartisan Review of Election Issues Next Week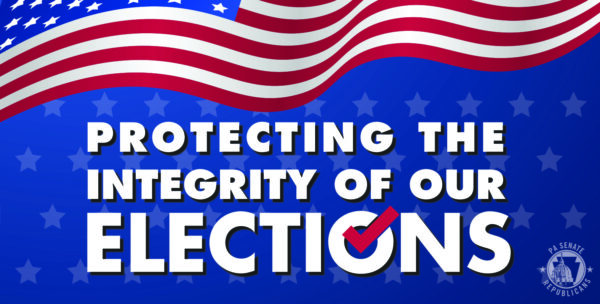 The Special Committee on Election Integrity and Reform will continue its comprehensive review of the 2020 General Election with a hearing on Tuesday at 10 a.m. The hearing will include testimony from the Pennsylvania Department of State, local election officials and county officials to gather state and local insight on the administration of the election.
The committee held its first meeting on Monday to review best practices of election integrity and security from other states. State residents are encouraged to submit their thoughts and comments through the online form.
Unemployment Compensation Programs Extended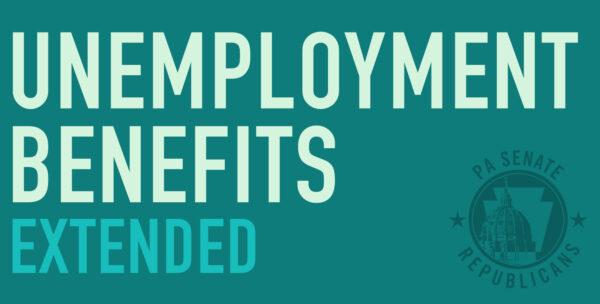 The federal government recently extended all Unemployment Compensation programs, including the additional $300 weekly Federal Pandemic Unemployment Compensation payments, through September 6. The maximum number of weeks of eligibility for the Pandemic Emergency Unemployment Compensation program was also extended from 24 weeks to 53 weeks, and the maximum number of weeks of eligibility for Pandemic Unemployment Assistance is extended from 50 weeks to 79 weeks.
In addition, up to $10,200 of unemployment benefits for an individual (or $20,400 for a couple, if both members received unemployment benefits) will not be considered federal taxable income in 2020, assuming the individual or couple earned less than $150,000 in adjusted gross income for the year.
World Down Syndrome Day is March 21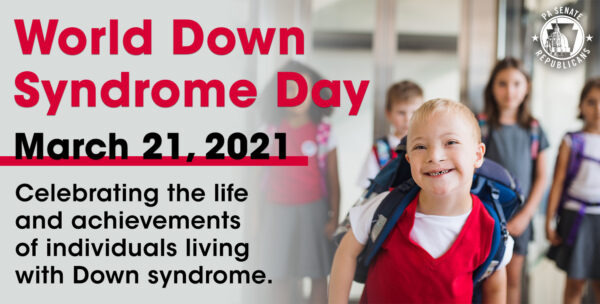 March 21 is designated as World Down Syndrome Day by numerous states and countries in recognition of the incredible achievements of the individuals living with this condition. Each person with Down syndrome has different talents, abilities and needs – and that makes every person living with this condition special and unique.
More information on World Down Syndrome Day is available here.